Technical Maintenance Specialist (B.Tech/B.E) (CLOSED) in University of Hyderabad - UoH Recruitment
Recruitment
For
Technical Maintenance Specialist (B.Tech/B.E) (CLOSED)
No of
Vacancies
01
Minimum
Salary
Please check with the concern authority or website
Last
Date
15/04/2021
Address
Dean, School of Humanities University of Hyderabad, ,
Hyderabad,
Telangana
500046
Qualification
B.Tech (EEE/ECE/CSE) with good technical knowledge/ experience in resolving computer hardware & software and internet issues
Pay
Scale
Per month Rs. 20,000/- (Rupees Twenty thousand only)
Age
Limit
Maximum Age limit 35 years (Born on or after 31-03-1986)
Job
Responsibilities
A full-time Technical Maintenance Specialist is required to take care of the audio-video, lighting, internet, electrical and A.C. systems in the School Auditorium, Conference Hall, Lecture Hall and Classrooms. To attend to the calls of the Departments and Faculty Members to resolve their computer, internet, audio-video & recording issues. Wherever necessary, to coordinate with the concerned Departments of the University to complete the tasks successfully.
How to
Apply For
UoH
vacancy :
1. Self-attested copies of certificates must accompany the application. Canvassing in any form will disqualify the candidate. The University reserves the right to cancel the recruitment notification/ recruitment, at any stage, without assigning any reasons. format or incomplete in any respect will not be entertained. The subject of the Email communication should be Application for the post of Technical Maintenance Specialist (Un-Reserved)
Job
Type
CONTRACTOR
Job
Deatils:
Official Website Document
Technical Maintenance Specialist Vacancy – Last Date 15 April 2021 (Hyderabad, Telangana), University of Hyderabad (UoH) recruits Technical Maintenance Specialist post. B.Tech/B.E, Experienced candidates can apply.
---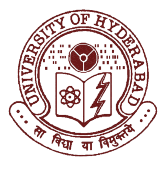 />
About University of Hyderabad (UoH) – यूनिवर्सिटी ऑफ़ हैदराबाद
The University of Hyderabad (UoH), one of the major institutions of higher education in India is largely devoted to postgraduate studies and is widely known for its excellence in research and for its distinguished faculty. Founded in 1974 with Prof. Gurbaksh Singh as its first Vice Chancellor, UoH – also known as Hyderabad Central University or HCU- has emerged as a leading centre of teaching and research. The large campus located near Gachibowli, which is the IT hub of Hyderabad, has immense bio-diversity and is home to over 75 varieties of bird, not to speak of the lakes and rock formations which give the campus a natural beauty.
Website Address:https://uohyd.ac.in/
Contact Us:Prof. C.R Rao Road
P.O. Central University
Hyderabad – 500 046, Telangana State, India
For more Government jobs, Please visit https://www.sarkari-naukri.in/