Project Associate - I (M.Pharma/M.Sc/M.E/M.Tech, MS/MVSC/NET/GATE/GPAT qualified) in Institute of Nano Science and Technology Recruitment
Recruitment
For
Project Associate - I (M.Pharma/M.Sc/M.E/M.Tech, MS/MVSC/NET/GATE/GPAT qualified)
No of
Vacancies
01
Minimum
Salary
Please check with the concern authority or website
Last
Date
15/07/2021
Address
Mohali Sector-81, Knowledge City, Sahibzada ,
Ajit Singh Nagar,
Punjab
140306
Qualification
M.S(Pharm.)/M.Pharm/M.Tech./M.Sc/M.V.Sc Degree in Pharmaceutical Sciences (preferable specialization in pharmaceutics or Pharmacology)/Biological Science/Life Sciences/Biotechnology with NET/GATE/GPAT qualification.
Pay
Scale
Rs. 31,000/- + 8% HRA (pm)
Age
Limit
The upper age limit shall be 35 years as on 15.07.2021, which is relaxed up to 5 years in the case of candidates belonging to Schedule Castes/Schedule Tribes/, Physically Handicapped/Visually Handicapped and female applicants whereas 3 years in case of OBCs (Non-creamy layer candidates).
Desirable
Qualifications
Experience in nano-formulations, Cell culture studies, Biophysical Chemistry,
How to
Apply For
INST
vacancy :
Completed applications in the prescribed format as annexed should reach to the following address by 15.07.2021 by speed-post or via email attachment (complete one combined PDF) addressed to: Name and Designation of PI Dr. Sharmistha Sinha Scientist-E Institute of Nanoscience and Technology (INST), Mohali Sector-81, Knowledge City, Sahibzada Ajit Singh Nagar, Punjab, Pin – 140306 Email: sinhas@inst.ac.in
Job
Type
CONTRACTOR
Job
Deatils:
Official Website Document
Project Associate – I Vacancy – Last Date 15 July 2021 (Mohali, Punjab), Institute of Nano Science and Technology (INST) recruits Project Associate – I post. Candidates with M.Pharma/M.Sc/M.E/M.Tech, MS/MVSC/NET/GATE/GPAT qualified, experienced can apply.
---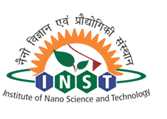 />
About Institute of Nano Science and Technology (INST)- इंस्टिट्यूट ऑफ़ नैनो साइंस एंड टेक्नोलॉजी :
Institute of Nano Science and Technology (INST), Mohali (Punjab), an autonomous institution of Department of Science and Technology (DST), Government of India, has been established under the umbrella of NANO MISSION, initiated by DST to boost research and development in the field of Nanoscience and Nanotechnology in India. INST started its activities on 3rd January 2013, the date on which its first Director was appointed. The institute is currently operating from its transit campus at Habitat Centre, Sector-64, Phase-X, Mohali, Punjab. The new campus of INST would be set up on 35 acers of land in the Knowledge City at Sector-81 (Mohali, Punjab), next to IISER Mohali campus, which is very near to new Chandigarh International Airport.
Website Address:https://inst.ac.in/
Postal Address:Habitat Centre, Phase- 10, Sector- 64 Mohali, Punjab – 160062
Tel:+91-172-2210075/57/56
Fax:+91-172-2211074
E-mail:contact@inst.ac.in
For more Government jobs, Please visit www.sarkari-naukri.in