Inventory Manager (MBA/PGDM) (CLOSED) in Indian Institute of Technology Jammu - IIT Jammu Recruitment
Recruitment
For
Inventory Manager (MBA/PGDM) (CLOSED)
No of
Vacancies
01
Minimum
Salary
Please check with the concern authority or website
Last
Date
14/05/2021
Address
JAGTI, NH 44, PO NAGROTA, JAMMU ,
Jammu,
Jammu and Kashmir
181221
Qualification
a) MBA in Inventory Management/ Supply Chain Management from a Govt. recognized University or Institute with at least 55% marks in aggregate or equivalent grade. b) Minimum 3 years' experience in handling inventory, maintenance of inventory ledger, receipt and issue of stores. Experience of working IT based system and ERP based inventory control module.
Pay
Scale
₹ 30,000-40,000 per month (Consolidated based on Qualification & experience)
Age
Limit
35 Years
Desirable
Qualifications
a) Well versed with the domains like procurement process, IT proficient, MS Office applications. b) Ability to put up sustained efforts and perseverant. c) The candidate must have a sense of professional accountability and commitment for high quality data upkeep
Job
Responsibilities
The Inventory Manager will assist Assistant Registrar (Procurement & Inventory Control) in the area of materials management & inventory control. Below are some of the roles and responsibilities.  To categorize the materials /items/equipment.  To take appropriate action for the care and storage of the materials /items in the store.  Periodical stock verification and ensure correctness of stock at all times.  To prepare the list of unserviceable items to be written off.  To take action for disposal of scraps materials /items/equipment as per the procedure.  To handle day to day tasks proficiently.  To manage reports with accuracy.
How to
Apply For
IIT Jammu
vacancy :
Candidates are required to apply ONLINE only from 07 May, 2021 to 14 May, 2021 up to 5:00 pm. For submission of application through ONLINE MODE, please visit: https://apply.iitjammu.ac.in and select tab Contract Staff to apply.
General
Instructions
a) Candidates should read carefully the requisite minimum essential qualifications, age and eligibility, experience criteria etc. laid down in the advertisement. b) The engagement shall be purely on outsource basis through manpower outsourcing agency of the Institute and period of engagement shall be purely dependent on the requirement of the Institute. The salary will be paid through Manpower agency contracted by IIT Jammu. Please I note that this is purely a temporary appointment, and selection does not entitle for any claim what-so-ever of permanency or regularization against any regular post or any vacancy arising in future in this or any other cadre/post on the basis of this service. c) The Institute can fix the consolidated salary lower/ higher than the given range. d) No claim for any service benefit like PF, Pension, Gratuity, Medical Allowance, Seniority & Promotion etc. from this contract appointment will be admissible. e) There is no application fee for Application form. f) Good knowledge of Computer applications (on emails, word processing, spreadsheet, presentations software etc. and OS like MS-Windows) is a must. g) Shortlisted candidates shall be called for Trade Test/Interaction evaluation. Mere qualifications may not ensure short-listing and Institute may apply higher than minimum cut off criteria to ensure reasonable number of candidates. The Candidate needs to bring all the original documents for verification during Trade Test/Interaction.
Job
Type
CONTRACTOR
Job
Deatils:
Official Website Document
Inventory Manager Vacancy – Last Date 14 May 2021 (Jammu, Jammu, and Kashmir), Indian Institute of Technology Jammu (IIT Jammu) recruits Inventory Manager post. Candidate with MBA/PGDM, Experienced can apply.
---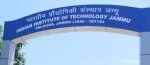 />
About Indian Institute of Technology Jammu (IIT Jammu) – इंडियन इंस्टिट्यूट ऑफ़ टेक्नोलॉजी जम्मू.:
It was a memorable day on May 01,2016 at Jammu,when a Memorandum of Understanding (MoU) between Department of Higher Education, Government of Jammu & Kashmir and Department of Higher Education, MHRD, Government of India, was signed, setting the ball rolling to set up an IIT campus at village Jagti, Tehsil Nagrota at Jammu. The site is located on the National Highway and is about 15 Km from the Airport. The State Government has provided the land, measuring 159 hectare for establishment of Indian Institute of Technology at Jammu. The agreement was signed by Prof. V. Ramgopal Rao, Director IIT Delhi for and on behalf of Ministry of Human Resource Development, Government of India, being the mentor Institute and Shri Hemant Sharma, Secretary to Government, Higher Education Department Government of Jammu and Kashmir. The august presence of Dr. Nirmal Kumar Singh, Hon'ble Deputy Chief Minister and Ms. Priya Sethi, Minister of State for Education, Technical Education, Culture, Tourism and Horticulture, Jammu and Kashmir during the signing of MoU ceremony was quite encouraging. The Land has been handed over to the CPWD, Jammu Division to take up the construction of the Transit campus as per layout plan. Senior functionaries of the State and Central Government from Education, Forest, PWD and CPWD etc., were present during the occasion.
Contact Us:Indian Institute of Technology Jammu
Jagti, PO Nagrota, NH-44
Jammu – 181 221
J&K, India
Telephone : 011-26597357
Email:picjammu@iitd.ac.in
Website Address:https://iitjammu.ac.in/
For more Government jobs, Please visit https://www.sarkari-naukri.in/