Academic Associate. (M.Com/M.B.A/B.Com/CA/CWA) (CLOSED) in Indian Institute of Management Lucknow Recruitment
Recruitment
For
Academic Associate. (M.Com/M.B.A/B.Com/CA/CWA) (CLOSED)
No of
Vacancies
01
Minimum
Salary
Please check with the concern authority or website
Last
Date
04/06/2021
Address
Prabandh Nagar, Off Sitapur Road,
Lucknow ,
Uttar Pradesh
226013
Qualification
Post-graduation (M.Com., or M.B.A. with specialization in Finance, or B.Com. with an M.B.A., or CA, or CWA) and a minimum three years of relevant research/ project/ teaching experience.
Pay
Scale
Rs.22,000 to Rs 29,500 per month, depending on qualification and experience
How to
Apply For
IIM Lucknow
vacancy :
Please submit your application by filling the Google form available at the link:
Job
Type
CONTRACTOR
Job
Deatils:
Official Website Document
Academic Assistant & Various Jobs – Last Date 04 June 2021 (Lucknow, Uttar Pradesh), Indian Institute of Management Lucknow (IIM Lucknow) recruits Academic Assistant, Academic Associate post. M.Com/MBA/B.Com/CA/CWA, Experienced candidates can apply.
---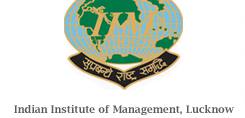 />
About Indian Institute of Management (IIM) Lucknow – इंडियन इंस्टिट्यूट ऑफ़ मैनेजमेंट लखनऊ :
The Indian Institute of Management Lucknow is fourth in the prestigious IIM family of management schools to be established in India after IIM Calcutta, IIM Ahmedabad and IIM Bangalore. The establishment of IIMs was envisioned and initiated by the first Prime Minister of India – Pandit Jawaharlal Nehru. The Institute was established in the year 1984. Since then IIML has touched million lives directly or indirectly through its faculty, alumni and support staff. IIML moulds its students into value driven leaders, managers and global players. The institute undertakes a diverse range of academic activities aimed at creation, dissemination and application of management knowledge and practice.
Website Address:https://www.iiml.ac.in/
Postal Address:Prabandh Nagar, IIM Road, Lucknow, Uttar Pradesh 226013
Tel:+91-522-2734101, 2734111-20, 6696001
Fax:+91-522-2734025 , 2734005
For more Government jobs, Please visit https://www.sarkari-naukri.in/