Junior Research Fellow (Project) - M.Tech/M.Sc/NET/GATE (CLOSED) in Indian Institute of Chemical Biology - IICB Recruitment
Recruitment
For
Junior Research Fellow (Project) - M.Tech/M.Sc/NET/GATE (CLOSED)
No of
Vacancies
01
Minimum
Salary
Please check with the concern authority or website
Last
Date
07/07/2020
Address
Poddar Nagar, Jadavpur,,
Kolkata,
West Bengal
700032
Qualification
M.Tech in Biotechnology / M.Sc in Life Science (NET-LS / GATE).
Pay
Scale
Rs.31,000 plus HRA
Age
Limit
28 Years
How to
Apply For
IICB
vacancy :
All applicants are to fill up the online form, and after submitting the same, the candidates are to take a print out of the resume and mail the scanned copy to the following email id enclosing scanned copy of the given documents/certificates within 07/07/2020 -
Job
Type
TEMPORARY
Job
Deatils:
Official Website Document
Junior Research Fellow Vacancy – Last Date 07 July 2020 (Kolkata, West Bengal), Indian Institute of Chemical Biology (IICB) recruits Junior Research Fellow posts. Candidates with M.Tech, M.Sc, NET/GATE, experienced can apply.
---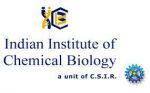 />
About Indian Institute of Chemical Biology (IICB)- इंडियन इंस्टिट्यूट ऑफ़ केमिकल बायोलॉजी:
The Institute was established in 1935 as the first non official centre in India for biomedical research and was included within the aegis of CSIR in 1956. CSIR-IICB today is engaged in research on diseases of national importance and biological problems of global interest, employing sophisticated state-of-the-art technology in keeping with the rapid and unprecedented momentum that life science research has gained globally over the last 50 years. The scientific staff has expertise in a variety of areas including chemistry, biochemistry, cell biology, molecular biology, neurobiology and immunology which promotes productive interdisciplinary interaction.
Website Address:https://iicb.res.in/
Contact Us:IICB
(Council of Scientific & Industrial Research)
4, Raja S.C. Mullick Road,
Kolkata, West Bengal, India,Pin:-700 032
Phone : +91 33 2473 0492
Fax : +91 33 2473 5197, +91 33 2472 3967
e-mail : director@iicb.res.in
Telegram : LIVINGCELL
For more Government jobs, Please visit www.sarkari-naukri.in