Deputy Chief Mechanical Engineer (B.Tech/B.E) (CLOSED) in Cochin Port Trust Recruitment
Recruitment
For
Deputy Chief Mechanical Engineer (B.Tech/B.E) (CLOSED)
No of
Vacancies
01
Minimum
Salary
Please check with the concern authority or website
Last
Date
19/06/2020
Address
Cochin Port Trust, ,
Kochi ,
Kerala
682 009
Qualification
(i) Degree or equivalent in Mechanical/Electrical/ Electronics/ Electronics & Communication Engineering from a recognized University/ Institution. (ii) Twelve years experience in relevant discipline in executive cadre in an Industrial/ Commercial/ Govt. undertaking.
Pay
Scale
Rs. 80,000 - Rs. 2,20,000/-Per Month
Age
Limit
42 years
How to
Apply For
Cochin Port Trust
vacancy :
Applications in the prescribed format from eligible and willing officers, who satisfy the provisions of recruitment rules for the post of Dy. Chief Mechanical Engineer (Ele./E&C), may be forwarded along with the following documents so as to reach this office on or before 19-06-2020, which shall be the crucial date for determining the qualification and experience. a) Attested copies of Educational & Professional qualifications. b) Attested copies of ACRs/APARs of the applicant for the last 5 years. c) No-Objection Certificate of the respective Ports. d) Two recent passport size color photographs in a sealed envelope. e) An undertaking of the applicant not to withdraw his candidature, if selected. f) Certificate by Head of Office of the Applicant as per the format. g) Vigilance/Administrative clearance of the concerned Port in the Proforma prescribed by the Ministry.
Job
Type
OTHER
Job
Deatils:
Official Website Document
Deputy Chief Mechanical Engineer Vacancy – Last Date 19 June 2020 (Kochi, Kerala), Cochin Port Trust recruits Deputy Chief Mechanical Engineer post. Candidates with B.Tech/B.E, experienced can apply.
---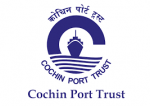 />
About Cochin Port Trust:
Cochin Port is a major port on the Arabian Sea – Indian Ocean sea-route and is one of the largest ports in India. The port lies on two islands in the Lake of Kochi: Willingdon Island and Vallarpadam, towards the Fort Kochi river mouth opening onto the Arabian Sea. The International Container Transshipment Terminal (ICTT), part of the Cochin Port, is the largest container transshipment facility in India.
The port is governed by the Cochin Port Trust (CPT), a government of India establishment. The modern port was established in 1926 and has completed 86 years of active service.
Website Address:
Contact Us: Willingdon Island, Kochi, Kerala 682003
Phone : +91 484 2666418 Ext 2200
e-mail : tm@cochinport.gov.in
For more Government jobs, Please visit https://www.sarkari-naukri.in/