Security Officer, Civil Engineer & Various Vacancies – Last Date 29 April 2019 (West Bengal, Kolkata), Allahabad Bank (Kolkata, West Bengal) recruits Security Officer, Civil Engineer, Manager, Financial Analyst, Manager posts. Graduate, B.E. / B.Tech., CFA / ICWA / MBA, PGDBM candidates can apply.
---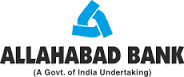 />
About Allahabad Bank – इलाहाबाद बैंक
Allahabad Bank (Hindi: इलाहाबाद बैंक) is a nationalised bank with its headquarters in Kolkata, India. It is the oldest joint stock bank in India. On 24 April 2014, the bank entered into its 150th year of establishment. It was founded in Allahabad in 1865.
As of 31 March 2012, Allahabad Bank had over 2,500 branches across India. The bank did a total business of INR 3.1 trillion during the FY 2012-13. The bank has a branch in Hong Kong and a representative office in Shenzen.
The bank's market capitalisation in May 2013 was US$1.28 billion and it ranked #1466 on the Forbes Global 2000 list.
History
19th century
On 24 April 1865, a group of Europeans at Allahabad founded Allahabad Bank. By the end of the 19th century it had branches at Jhansi, Kanpur, Lucknow, Bareilly, Nainital, Calcutta, and Delhi.
20th century
In the early 20th century, with the start of Swadeshi movement, Allahabad Bank witnessed a spurt in deposits. In 1920, P & O Banking Corporation acquired Allahabad Bank with a bid price of ₹436 (US$6.50) per share. In 1923 the bank moved its head office and the registered office to Calcutta for reasons of both operational convenience and business opportunities. Then in 1927 Chartered Bank of India, Australia and China (Chartered Bank) acquired P&O Bank. However, Chartered Bank continued to operate Allahabad Bank as a separate entity.
Allahabad Bank opened a branch in Rangoon (Yangon). At some point Chartered Bank amalgamated Allahabad Bank's branch in Rangoon with its own. In 1963 the revolutionary government in Burma nationalized Central Bank of India's operations there, which became People's Bank No. 2.
On 19 July 1969, the Indian Government nationalised Allahabad Bank, together with 13 other banks.
In October 1989, Allahabad Bank acquired United Industrial Bank, a Calcutta-based bank that had been established in 1940 and that brought with it 145 branches. Two years later, Allahabad Bank established AllBank Finance Ltd, a wholly owned Merchant Banking subsidiary.
21st century
The government's ownership of Allahabad Bank shrank in October 2002 after the bank engaged in an Initial Public Offering (IPO) of ₹100 million (US$1.5 million) of shares, each with a face value ₹ 10. The IPO reduced the Government's shareholding to 71.16%. Then in April 2005 the bank conducted a second public offering of ₹ 100 million of shares, each with a face value ₹ 10 and selling at a premium of ₹ 72. This offering reduced the Government's ownership to 55.23%.
In June 2006 the bank opened its first office outside India when it opened a representative office in Shenzen, Mainland China. In February 2007, Allahabad Bank opened its first overseas branch, in Hong Kong. In March, the bank's business crossed the ₹ 10 million million mark.
Website Address:
Contact Us:Allahabad Bank Head Office,
2, N. S. Road, Kolkata -700 001
EPABX Nos.: 033 2242 0851 / 2242 3373
2242 0863/ 2242 0915
2242 0869/ 2210 3777
2242 0900 / 2242 0883
2242 0912