Data Entry Operator (DEO) - 12TH (CLOSED) in All India Institute of Medical Sciences Rishikesh Recruitment
Recruitment
For
Data Entry Operator (DEO) - 12TH (CLOSED)
No of
Vacancies
01
Minimum
Salary
Please check with the concern authority or website
Last
Date
14/08/2021
Address
Near Barrage, Sturida Colony, ,
Rishikesh,
Uttarakhand
249203
Qualification
12th Standard pass with Computer knowledge, 02 years working office experience. Working knowledge of Microsoft Office word and Excel. Ability to enter data into a computer quickly and accurately.
Pay
Scale
15,000/-
Age
Limit
Upper Age limit (In years) 35
How to
Apply For
AIIMS Rishikesh
vacancy :
Suitable Candidates are advised to send his/her duly filled application form by Email to pulm@aiimsrishikesh.edu.in , till date: 14/August/2021 along with all relevant self-attested documents regarding age, qualifications and relevant experience.
Job
Type
CONTRACTOR
Job
Deatils:
Official Website Document
Data Entry Operator Vacancy – Last Date 14 August 2021 (Rishikesh, Uttarakhand), All India Institute of Medical Sciences Rishikesh (AIIMS Rishikesh) recruits Data Entry Operator posts. Candidates with 12TH, Experienced can apply.
---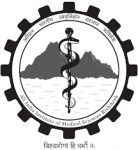 />
About All India Institute of Medical Sciences Rishikesh (AIIMS Rishikesh) – आल इंडिया इंस्टिट्यूट ऑफ़ मेडिकल साइंसेज, ऋषिकेश:
AIIMS, Rishikesh is one of the SIX AIIMS like apex healthcare institutes being established by the Ministry of Health & Family Welfare, Government of India under the Pradhan Mantri Swasthya Suraksha Yojna (PMSSY). With the aim of correcting regional imbalances in quality tertiary level healthcare in the country, and attaining self sufficiency in graduate and postgraduate medical education and training the PMSSY planned to set up 6 new AIIMS like institutions in under served areas of the country.
Website Address:https://aiimsrishikesh.edu.in/a1_1/
Postal Address:Virbhadra Road, Rishikesh Uttarakhand Pin No : 249 201
E-mail:rakeshkumar.aoaiims@gmail.com
For more Government jobs, Please visit https://www.sarkari-naukri.in/