Research Associate (M.Phil/Ph.D) (CLOSED) in All India Institute of Medical Sciences Bhopal Recruitment
Recruitment
For
Research Associate (M.Phil/Ph.D) (CLOSED)
No of
Vacancies
01
Minimum
Salary
Please check with the concern authority or website
Last
Date
31/05/2021
Address
All India Institute of Medical Sciences Bhopal, Saket Nagar, ,
Bhopal,
Madhya Pradesh
462020
Qualification
PhD in Biochemistry/ Biotechnology, life sciences / chemistry
Pay
Scale
Rs-47000/- per month, Plus 16%HRA=Rs54520/-per month
Age
Limit
Candidate up to 33 years of age can apply
Desirable
Qualifications
Experience in Atomic Absorption spectrophotometer, ICPMS,GC-MS,HPLC
How to
Apply For
AIIMS Bhopal
vacancy :
1. Interested candidates must apply on the application form attached with this advertisement. Duly completed application form along with candidate's resume must be mailed at ( Dr Mahendra Atlani, Assistant Prof –Nephrology, Dialysis Unit 3rd floor, All India Institute Of Medical Sciences (AIIMS); Saket Nagar, Bhopal-462020 (Madhya Pradesh) India ./emailed to PI at email: mahendra.nephro@aiimsbhopal.edu.in , so as to reach him within two weeks from the date of publication of advertisement. 2. The candidates should bring the following documents at the time of interview: i. Covering letter and detailed Curriculum Vitae (CV) along with passportsize photograph. ii. Original and attested photocopies of all documents, certificates, degrees and mark sheets (Xth class onwards). iii. Copies of certificates/testimonials/documents which the candidate may wish to bring to the knowledge of the selection committee.
Job
Type
CONTRACTOR
Job
Deatils:
Official Website Document
Research Associate Vacancy – Last Date 31 May 2021 (Bhopal, Madhya Pradesh), All India Institute of Medical Sciences Bhopal recruits Research Associate posts. M.Phil/Ph.D, Experienced candidates can apply.
---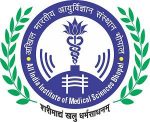 />
All India Institute of Medical Sciences Bhopal (AIIMS Bhopal) – आल इंडिया इंस्टिट्यूट ऑफ़ मेडिकल साइंसेज, भोपाल :
AIIMS Bhopal is one of the seven AIIMS apex healthcare institutes being established by the Ministry of Health & Family Welfare, Government of India under the Pradhan Mantri Swasthya Suraksha Yojna(PMSSY). With the aim of correcting regional imbalances in quality tertiary level healthcare in the country, and attaining self sufficiency in graduate and postgraduate medical education and training the PMSSY planned to set up 6 new AIIMS like institutions in under served areas of the country. These institutions are being established by an Act of Parliament on the lines of the original All India Institute of Medical Sciences in New Delhi which imparts both undergraduate and postgraduate medical education in all its branches and related fields, along with nursing and paramedical training. to bring together in one place educational facilities of the highest order for the training of personnel in all branches of health care activity. To establish a centre of excellence in medical education, training, health care and research imbued with scientific culture, compassion for the sick and commitment to serve the under served.
Website Address:https://www.aiimsbhopal.edu.in/
Postal Address:Saket Nagar, Bhopal, Madhya Pradesh 462020
E-mail:recruitment@aiimsbhopal.edu.in
For more Government jobs, Please visit https://www.sarkari-naukri.in/