अदिति महाविद्यालय
Psychologist ( M.A) in Aditi Mahavidyalaya Recruitment
Recruitment
For
Psychologist ( M.A)
No of
Vacancies
01
Minimum
Salary
Please check with the concern authority or website
Last
Date
19/04/2023
Address
Aditi Mahavidyalaya Auchandi Road, Bawana,
New Delhi ,
Delhi
110039
Qualification
Should have passed Master's degree in Psychology from a recognized University with two years of experience.
Pay
Scale
Rs.21,100.00/-
How to
Apply For
Aditi Mahavidyalaya
vacancy :
Interested candidates fulfilling essential qualifications and experience need to report for walk-in-interview with certificates in support of qualifications and experience to Office of the Principal, Aditi Mahavidyalaya (University of Delhi), Bawana, Delhi-110 039 on 17.04.2023 at 9.30 a.m.
Job
Type
OTHER
Job
Deatils:
Official Website Document
Psychologist    Vacancies – Last Date 19  April   2023  (New Delhi ), Aditi Mahavidyalaya recruits Psychologist  posts. Candidate with M.A  Experienced can apply.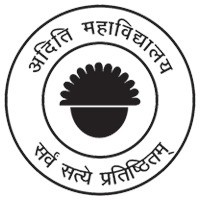 ABOUT  Aditi Mahavidyalaya;अदिति महाविद्यालय 
Situated on the outskirts of Delhi, Aditi Mahavidyalaya- the only institution of higher learning for a cluster of 52 villages was conceptualized in 1994 with the vision and mission to empower women with the indispensable tool of education. With the hard work, sweat and determination of the teachers, management and staff, Aditi has carved a niche for itself on the map of the University of Delhi.
Having access to quality education is especially significant for women, not only because education facilitates the realization of other human rights, but because the educational achievements of women can have a direct impact within the family and across society.
Therefore, our aim at 'Aditi' is to empower rural women by imparting quality education. Though rural women constitute the essence of our institution, our versatility lies in catering to the urban women too and in providing the young and vibrant youth with wings of opportunities in their flight towards realisation of their dreams.
With a humble beginning of 200 students and a handful of courses, the college has transformed over the last three decades and proudly offers prestigious courses like B.El.Ed., Honours Courses in Social Work, Geography, Hindi Patrakarita, B.Com. to name a few. The mantra of the college is to initiate holistic development of young women equipping them with the power to act and adapt to the growing challenges of the changing world.