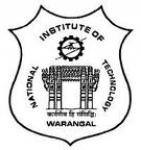 National Institute of Technology, Warangal (NIT Warangal)
Senior Research Fellow (SRF)
Address:
National Institute of Technology Warangal ,
Warangal ,
Telangana
506004
Pay scale ( वेतन ) :
Rs 28000/- pm + HRA as per institute rules
Educational requirements ( शैक्षिक आवश्यकता ) :
First class B.Tech in Electrical Engineering or equivalent and First class M.Tech in Electrical Engineering with GATE qualification.
Last date to apply for this job ( अंतिम तारीख ) :
10/30/2016
How to apply ( आवेदन कैसे करे ) :
Interested and eligible candidates may send their application with detailed qualifications, experience, supporting copies of certificates, contact address, telephone/mobile number and Ernail ID. Applications should be sent as hard copy by post to the address mentioned below and scanned copies could be sent by email to jsachin@nitw.ac.in or s_binayake@rediffmail.com so as to reach us by N0-10-2016. The intervier.r,date will be cornmunicated to the eligible candidates through e-mail & phone. No TA/DA will be paid for attending the interview.
General instructions ( सामान्य निर्देश ) :
Candidates who are already employed should produce 'No objection Certificate' OIOC) from tlte employer and students should provide provisional degree cerlificate or its equivalent at the time of interview. The selected candidate is expected to produce a Relieving Certificate from their employer or provisional degree certificate in case of students and join the duties within a week after intimation of their selection else it would be offered to a candidate in waiting list.
National Institute of Technology, Warangal recruits Senior Research Fellow Posts. Candidates with B.Tech, M.Tech, GATE can apply.
---
About National Institute of Technology, Warangal:
The Institute is well known for its dedicated faculty, staff and the state-of-the art infrastructure conducive to a healthy academic environment.The Institute is constantly striving to achieve higher levels of technical excellence. Evolving a socially relevant and yet internationally acceptable curriculum, implementing innovative and effective teaching methodologies and focusing on the wholesome development of the students are our concerns. Thanks to UNESCO and UK assistance in the past, many developmental activities were undertaken.The World Bank Assistance under Technical Education Quality Improvement Programme (TEQIP during 2004-09) had been a timely help in the overall development of the Institute.
Website Address:http://www.nitw.ac.in/
Postal Address:Warangal – 506004, TS
Tel:+91-870-2459191
Fax:+91-870-2459547
For more Government jobs, Please visit www.sarkari-naukri.in